PY-1 Oil Filter Burst Strength Tester
Oil and Fuel Filters Testing Equipment

Introduction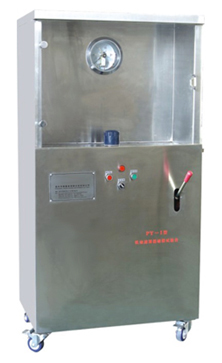 Product details
I. General Description
It is suitable for testing and inspecting the pressure resistance of the oil filter assembly.
II. Specifications
1.Max test pressure: 2.5MPa
2.Pressure precision: one grade;
3.Power supply: 220V/50Hz
4.Motor power: 250W
5.Machine weight: 250Kg
6.Machine size: 900mm*750mm*1230mm (L*W*H)
III. Features
1.The manual pump of the test stand will pressurize the filters until the filters burst and the pressure gauge immediately displays the pressure.
2.The pressure to be displayed won¡¯t be disappeared on the gauge until the reset is done manually;
3.Reasonable design, simple operation and exquisite shape