SEGJ-420 Full-auto Rotary ECO Pleating Production Line
ECO Filter Production Line
Introduction
This machine is used to produce the ECO filter element.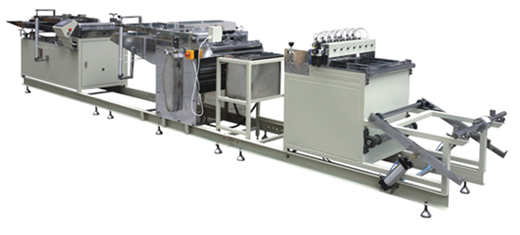 Product details
I. General Description:
This machine is used to produce the ECO filter element.
II. Machine Components:
1.Auto De-coiler;
2.Pre-slitter;
3.Water steam device;
4.Auto counter;
5.Six set of rollers;
6.Pre and post heating device;
7.Pleating and collecting system;
8.Conveyor;
III. Specifications:
1.Pleating speed: 0-30m/min;
2.Max pleating width: 420mm
3.Min pleating width: 30mm
4.Max pleating height: 50mm
5.Min pleating height: 12mm
6.The pleating rollers size is customized;
7.Temperature control: normal temperature to 300 degree;
8.Heating power: 14Kw
9.Total power: 16Kw
10.Air pressure: 0.6MPa
11.Power supply: 380V/50Hz
12.Machine weight: 1000kg
13.Machine size: 6000mm*900mm*1200mm (L*W*H)
IV. Features:
1.The round air pre-slitting knives can be easily adjusted and pressure is well balanced;
2.It adopts the water steam device, which is advantageous to prevent the paper from breaking when its mark by rollers;
3.Six sets of the rollers are equipped in one circle turning machine, which is easy to change the roller for different pleating heights;
4.The roller is made to give the embossment on the paper when marking for making ECO filter. And to keep a certain distance between each two pleats, and even consistent.
5.This automatic production line has the working process of auto count marking, pleating, pre-heat forming;
6.This machine has the stainless steel conveyer device, so the filter paper is pleated much more evenly and smoothly;
7.This production line is controlled by PLC and simple to operate.