PU-20F Full-auto PU Dispensing Machine for Air Filter
PU Air Filter Production Line

Introduction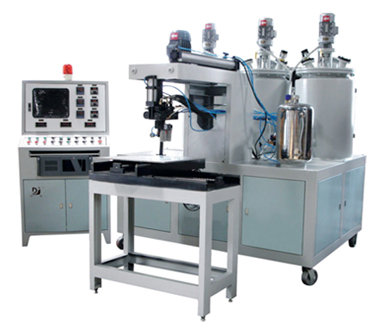 Product details
I. General Description:
This machine is mainly used to pour PU material for the automobile air filters or industrial filters.
II. Machine components
1.Tank: three-layer stainless steel tank with stirring and automatic constant temperature preservation function;
2.Pump: slow speed, high precision flow control imported pump with precise transmission and display devices;
3.Mixing head;
4.Worktable: the round, rectangle and special shape can be poured;
5.Control: temperature, pressure and pouring quantity is automatically controlled and digitally displayed;
III. Specifications:
1.Total output: 5-15g/s mixing ratio: A=B 100=25-35
2.Nozzle travel after pouring: 450mm
3.Max size for rectangle: 400*300mm (L*W)
4.Max size for round: dia 350mm
5.Travel speed: 2-10m/min
6.Total power of the machine: 8Kw
7.Power supply: 380V/50Hz
8.Machine weight: 1000kg 9.Machine size: 1500mm*2000mm*2100mm (L*W*H)
IV. Features:
1.Digital display and PLC control;
2.Stable and precise measuring and constant temperature control;
3.The machine has the X-Y worktable, which can be used for panel air filter, round air filter and special shape.