SEPB-850 Fabric-bag Filter Auto Cutting Machine
Primary-Medium-High Efficiency Air Filter Producti
Introduction
It is used for cutting the fabric-bag filter.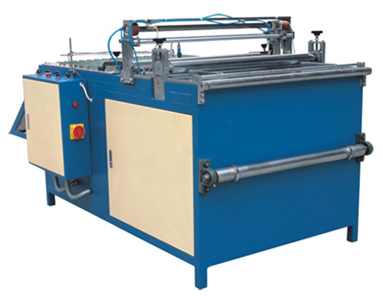 Product details
I. General Description
It is used for cutting the fabric-bag filter.
II. Equipment Components
1.Fabric de-coiler
2.Roll feeding system
3.Moving fabric cutting system
4.Convey working table
5.Electric control cabinet
III. Specifications
1.Production speed: 20-30m/min
2.Max cutting width: 850mm
3.Cutting length: 300-980mm
4.Air pressure: 0.6MPa
5.Power supply: 220V/50Hz
6.Motor power: 0.8Kw
7.Machine weight: 300kg
8.Machine size: 2100mm*1300mm*1100mm (L*W*H)
IV. Features
1.This machine is equipped with automatic electrical control system which can easily regulate the length of cutting easily.
2.The machine is high efficiency and easy to operate;
3.This machine can automatically record the production capability. When it is operated incorrectly, rapidly press the emergency button so as to avoid materials waste;
4.The cutting plane can be kept neat and straight while cutting so it is easy to sew up the interface.