CL-1 Fuel Filter Integrated Performance Tester
Oil and Fuel Filters Testing Equipment

Introduction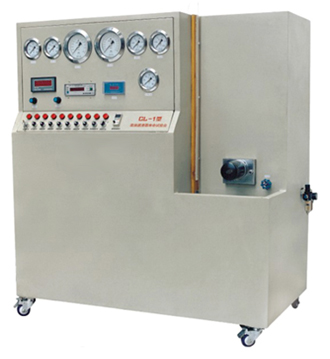 Product details
I. General Description
It is used to test the filter efficiency and blocking life of fuel filter.
II. Specifications
1.Oil tank capacity: 50L
2.Flow precision: 1grade
3.Temperature precision: +/-1 degree
4.Pressure precision: 0.5grade
5.Motor power: 0.25Kw
6.Power supply: 380V/50Hz
7.Air pressure: 0.6Mpa
8.Machine weight: 500Kg
9.Machine size: 1500mm*810mm*1620mm (L*W*H)
III. Features
1.Use U-type pressure meter and precise pressure gauge to measure the pressure difference.
2.Mixing system is utilized to make the impurities and oil evenly blended
3.Equipped two 0.8¦Ìm stainless steel precise filters to ensure the testing oil cleanness.
4.The working table and oil tank are all made of stainless steel, and the pipelines uses excellent copper pipelines and coupler;
5.Test standard: ISO4020