ZH-2 Anti-drain Back Value Tester
Oil and Fuel Filters Testing Equipment

Introduction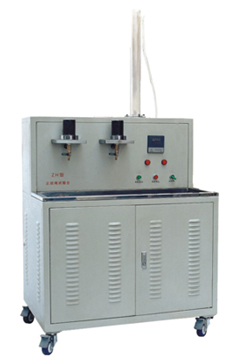 Product details
I. General Description
It is used to check the anti-drain back ability of the spin-on filters at the situation of installation.
II. Specifications
1.Oil pump flow: 5L/min;
2.Temperature control range: normal to 100 degree
3.Oil tank capacity: 20L
4.Motor power: 0.25Kw
5.Power supply: 380V/50Hz
6.Heating power: 1Kw
7.Machine weight: 300Kg
8.Machine size: 1300mm*715mm*1160mm (L*W*H)
III. Features
1.Automatically control the calibrated oil level;
2.The worktable and the oil tank are made of stainless steel; the pipelines and the coupler are made of the purple cooper.
3.Test standard: ISO4548